Newsletter Topics
Welcome to Vertex Users
Here we introduce you to users of VERTEX modules and offer them a sincere welcome to the VERTEX User Group. We hope they will make full use of these pages and look forward to their input.
Welcome to:
The Durban Overall Company
A J Clothing of Cape Town, South Africa
The South African factory of A J Charnaud
Shamar Workwear in Cape Town, South Africa
The Poppy's Knitwear factory in Tiripur, India
Seeds Apparel in Bangalore, India.
LVK Babywear in Bangalore, India.
Sunspel Manufacturing in Long Eaton, UK.
P K International of Gujarat, India.
Cooper and Stollbrand in Manchester, UK.
Jay Jay Mills of Avissawela, Sri Lanka.
Performance Manufacturing in Thailand.
Omareef Group factories in Thailand and China.
Caldeira - The Cushion Factory in Knowsley, UK.
Another Jeweltex factory in Morocco.
Ravikumar Indian Designs of Bangalore.
Structure-Flex of Billingham, UK.
Europa Garments in Bangalore, India.
Alpha Garments in Bangalore, India.
First Steps Babywear in Bangalore, India.
Jaguar (PVT) Limited in Faisalabad, Pakistan.
Also, we have been pleased to note the following Vertex users who decided to extend their systems with other modules in the Vertex range. If you are undecided about integrating you might like to be put in touch - just e-mail or give us a call on (44) 1476 563188
Fashionwear Manufacturers in Leicester adopted the Export/Import Utility.
Burberry UK have adopted the Vertex Flexible Working Time-Bank at Castleford.
Poppy's Knitwear have also installed Vertex Time & Attendance.
Manchester Hosiery of Hinckley, UK - added Vertex Raw Materials Control
P K International have added Vertex Raw Materials Control.
Sunspel Manufacturing also adopted Vertex Time & Attendance.
P K International also installed Time & Attendance at Gujarat.
Bodywrappers Inc. in New Jersey, USA - added Vertex Time & Attendance.
The Burberry factory at Castleford - added Vertex Time & Attendance.
Citifax of Corby, UK - added Vertex Time & Attendance.
Manchester Hosiery of Hinckley, UK - added Vertex Time & Attendance.
Gransfors Bruks Inc., USA, added Vertex Time & Attendance.
Caldeira, St Helens, UK - added Vertex Raw Materials Control.
Mortex of Coventry, UK - added Vertex Time & Attendance.

---

People who can help!
This is a new feature in the Vertex web site. Because of our long association with manufacturers around the world, we have often been asked for advice regarding the employment of consultants. In particular, when new production lines or units are to be set up or existing lines converted to more modern working methods, the help of knowledgeable and reliable advisors can be invaluable. We have in the past been able to recommend people who we know from our own experience to be expert, dependable and cost-effective.
These introductions have led to successful contracts and served to build our own reputation for effective support. So if you have a situation developing which could use some available expertise, maybe in a new production unit overseas or nearer to home, please do not hesitate to get in touch.
We must emphasise that we play no part in negotiating terms or contracts and charge no fees. Our service is simply to recommend and to put the parties in touch. The calibre of our people can be gleaned from the examples which follow.
Lincoln Banks - extensive production experience in an executive and industrial engineering capacity - lately of Baird Menswear Group. Contracted to Textile Industries Company in Egypt to review and refine production for Liz Claiborne and Tommy Hilfiger.
Paul Cooper - has held responsible engineering and factory management positions for Dewhirst UK, Dewhirst Indonesia, Dewhirst Morocco, Grasshopper, Quantum Cambodia and Gloria Vanderbilt Jordan. Commensurate with this background, Paul brings considerable expertise to bear. A detailed CV for this expert industrial engineer is available on request.
Tom Shepard and Betty Hinton - operating in the East Coast states of the USA, Tom and Betty provide an expert consultancy service to apparel manufacturers. They bring to bear substantial knowledge of Vertex systems and considerable expertise covering all aspects of garment manufacture from line commissioning to supply chain management and offshore production. If you would like to be put in contact with Tom and Betty, do use the "contact us" facility and we will be delighted to forward your enquiry.

---

Upgrading and the new support charge
Vertex modules are subject to a schedule of development and upgrading, whether it is to cater for a new Windows® operating system, or just the addition of useful features suggested by our User Group. By now, users will be aware that we have had to ask for a modest contribution to our support costs. This takes the form of an annual payment of GBP £ 125 per module which helps to keep our lines open and ensure that we can give the best response to your calls for help. The charge includes for upgrades to keep your system up to the latest standard. The most up to date Vertex Plus for Windows® is Version 2.81 Issue G. If you need to upgrade then please contact us to be added to the support list.

---

Recommended Printers...
The Kyocera range of laser printers continues to be the most popular choice for VERTEX Plus. The ceramic drum dramatically reduces running costs and the model FS-3900 series is proving most efficient from Dubai to Dublin. We must point out though, that printing so many barcodes on the relatively heavy adhesive ticket materials can shorten the life expected from toner cartridges, pick-up mechanisms and other printer components. For lighter duties, the FS-2020D is a most effective and economical alternative.
Note that some of the "light duty" HP Laserjet printers - 1010, 1012 etc., do have some trouble printing large spooled files. This is a known problem which only affects work-ticket printing. The answer is to use one of the 4000 series Laserjets.
While dot-matrix printers have long been superceded, a well-proven alternative is the Canon BJ330 bubble-jet printer. Used by S S Johal, Samra Fashions, Brandfocus and Jack Masters, all praise its economy, speed and quiet operation. Although now out of manufacture, some are still available, while Canon supply alternative models which do a reasonable job. We have recently had good reports from T M Lewin, who use an Epson FX-2190 wide carriage printer, which has a "pull tractor" option and a direct-feed slot in the base-plate.

---

Good News from VERTEX Users..
The moves by many UK companies towards manufacturing off-shore have been accompanied by excellent reports on how useful VERTEX Plus has been in this context. Courtaulds (Sara Lee) and Coats Viyella (Quantum) in particular take advantage of the ease by which data can be collected off-shore, formatted and transmitted back to UK in data-base form. Vertex Plus has a link to the BPCS system used by Sara Lee - for more details of this link please e-mail.
We continue to be pleasantly surprised by user's contributions to our development work, particularly with new ventures. In this context SECO Aluminium played a major part in perfecting our stillage tracking system, while Fashionwear and Shadowline have played a similar role with the new Stock & BOMs module.
We note with pleasure the coverage Clothing World gave to one of our most dynamic users, Kearsley Manufacturing of Bolton. Every picture tells its tale and the one below, reproduced by kind permission of the Editor, seems to reflect their success.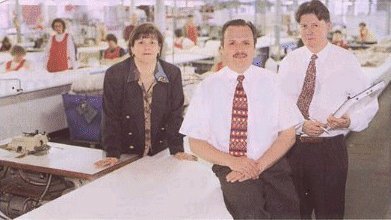 Pictured above at Kearsley Manufacturing in Bolton, achievers of the Investors in People Standard, are Barbara Bond, Administrator; Nick Medina, Managing Director; and Robert Wright, Method Study Manager.

---